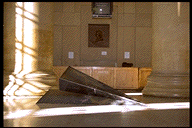 This steel sculpture was constructed as a monument to the human capacity to create -- to envision, design, and produce, objects of beauty. Its simplicity and elegance of form is clear; with three simple folds an icon is created for the concept of ideas.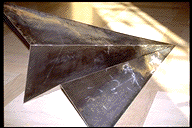 The unfinished steel is left marked and stained, recalling the process by which the piece was created, and emphasizing the action of object creation from idea.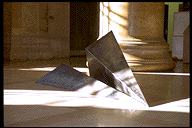 The paradox of scale and function that is obvious here serves to touch viewers on an emotional level, bringing an uncontrolled smile and an urge to see it fly. It doesn't fly.