The Hyperbolic Reader is a device that was built as part of XFR: Experiments in the Future of Reading project.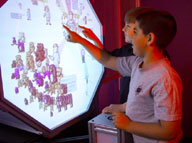 Based on a technology developed at Xerox PARC and commercialized by Inxight, Inc. called the Hyperbolic Tree Browser.
The device presents an interconnected comic-book-like narrative (in this case, a story about an 8-year-old boy named Henry) which can be freely browsed by visitors in a non-linear, exploratory way.