XFR: Experiments in the Future of Reading is an award-winning 18-month research and design project by a team of eight interdisciplinary researchers at the Xerox Palo Alto Research Center (PARC).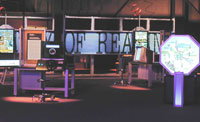 For this project, we created a 4,000 square foot interactive installation featuring twelve experimental reading systems. The conceptual root of the installation was an examination of the changes that occur in the phenomenon of reading over history and from culture to culture, and their relationship to emerging technologies.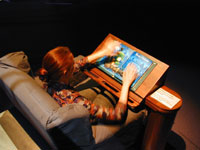 Exhibits featured on the XFR show floor include three 16-foot long Reading Walls about the history of reading which incorporate large flat panel displays with dynamic, position-responsive texts. There are also three Tilty Tables, square tiltable tabletops used for browsing large documents, and three Listen Readers, real paper books with audio soundtracks that responded to readers' hand gestures. The Reading Wall and Listen Reader were awarded Gold and Silver medals in ID Magazine's 2001 Annual Interactive Media Design Review.
Although I worked on many different aspects of the XFR show, the two exhibits I had the most involvement with were the Glyph-O-Scope and the Hyperbolic Reader.